Kristen Stewart: A Rising Star
By Michelle
Kristen Jaymes Stewart was born on April 9, 1990 in Los Angeles, California, USA. In 1999, Kristen's first movie appearance was as a girl waiting for a drink in the movie Thirteenth Year. Kristen's first real role in a movie was playing Patricia Clarkson's daughter in the indie movie The Safety of Objects in 2001.
Kristen's breakout role was in the movie Panic Room in 2002. She played character Sarah Altman, who was Jodie Foster's diabetic daughter. "When I got [the script for] Panic Room I was like, 'Oh my God that's huge! It's bigger than huge,'" recalls Kristen. "I was kind of freaked out at first [because of Jodie Foster]." Originally, another young actress had been cast when Nicole Kidman was scheduled to play the lead role, instead of Jodie. But when Nicole was injured and had to drop out, Jodie took her part. Kristen was then hired to replace the original young actress, because the casting director thought she had a better resemblance to Jodie. Because of Panic Room, Kristen was nominated for a Young Artist Award in the category of "Leading Young Actress" for her performance.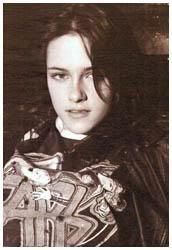 Although the film received mixed reviews, Kristen received positive notices for her role, and Panic Room was a box office success. Kristen was quickly hired to play the daughter of Dennis Quaid and Sharon Stone in the movie Cold Creek Manor in 2003. From then on, Kristen had many other major movie roles. She had the starring role as a girl with a passion for mountain climbing in the movie Catch that Kid in 2004 with Max Thieriot and now well known actor Corbin Bleu from High School Musical. She then starred in the movie Undertow in 2004 with Dermot Mulroney and Josh Lucas, and was nominated again for a Young Artist Award in the category of "Leading Young Actress" for her performance.
When Kristen was thirteen, she starred in the television film, Speak. Kristen received great praise for playing character Melinda Sordino, even though she had only a few speaking lines. She also appeared in the fantasy-adventure movie, Zathura, which was released in 2005.
Kristen had the main role in the movie The Messengers, a suspense-thriller movie about a haunted house, palying character Jess Solomon. The movie was released in February 2007. "There's definitely some running and screaming in this [movie]," Kristen says. "Even though the public knows me from Panic Room or something like that, I haven't worked on a thriller in a while, and I enjoy it. I love horror movies. I love good horror movies, and I hate bad ones. Although, its kind of fun to watch bad scary movies, though."
Thing are going great for Kristen. Most recently, Kristen had another main role in the movie In the Land of Women, a romantic comedy starring Meg Ryan and Adam Brody. It was released on April 20, 2007. In September, you can see her on the big screen again in the movie Into the Wild, scheduled to be released Spetember 21, 2007. You can also catch Kristen in The Cake Eaters and Fierce People, both scheduled to be released sometime in 2007. The movie The Yellow Handkerchief, which was scheduled to start filming in April 2007 in Louisiana, USA, and the movie What Just Happened? are scheduled to be released sometime in 2008.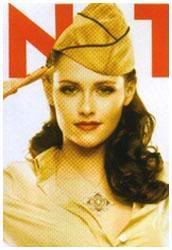 Kristen's recent shoot for
Vanity Fair Magazine

Fun Facts

Kristen's nickname is Kris.
Kristen is an avid surfer.
Her father, John Stweart, is a television producer who works for the FOX television company.
She has an older brother named Cameron.
Kristen shares her birthday with actor Dennis Quaid, who played her father in Cold Creek Manor.
She replaced Hayden Panettiere in Panic Room.