Austin Butler Interview
Interview by Eleni
Interview date: February 2008

Name: Austin Butler
Career: Actor
Official Site: Austin-butler.com
IMDb Page: imdb.com/name/nm2581521
Myspace: myspace.com/officialaustinbutler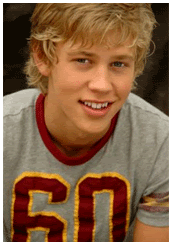 Austin Butler

Acting career
How did your acting career start?
I went into an open call for a background management company, and did a little scene for a commercial. I signed up with them, and they gave me suggestions on acting classes to take, and places to get headshots taken. They also got me the opportunities to start doing extra work on a couple of TV shows. I started working regularly on the Nickelodeon show "Ned's Declassified School Survival Guide." On that show I became friends with a lot of the actors, and Lindsey Shaw (who played Moze on the show) introduced me to her manager, Pat Cutler. I signed with her immediately, and she got me on the right track. I started auditioning all the time, and eventually started booking commercials, and small roles on shows like Hannah Montana, Zoey 101, Out of Jimmy's Head, and iCarly.
One of my first things was the small guest staring role of Dannifer on Zoey 101. Later, I got the chance to play the role of Jake Krandell on iCarly (by Dan Schneider, the creator of Zoey). It was great getting to work on that show, and more importantly, it really introduced me to Dan. About a month after iCarly, I was called in to audition for a rather large role (James Garrett) on Zoey 101. After a lot of auditioning, I got the part. I thought it was funny getting to be two different characters on the same show. It was so great having the permanent job on Zoey!
Now I'm in New Zealand filming a movie for 20th Century Fox, called "They Came From Upstairs." I'm having a blast!!
What are the best parts/worst parts of acting?
There are so many great things about acting:
you get to meet great people, you can express yourself in so many ways, you get paid to play like when you were a kid in dress up clothes, and one of the best things is that you get to travel to amazing places!
Some negatives are:
It's not as easy as it seems (It's actually pretty hard, but that adds to the fun of it, learning about your craft!), I feel like actors are judged with very little thought about it, and you have to learn to not take things personally, and it can be sad to be away from the people you love for long periods of time.
Coolest celeb you've met
I've met so many cool people!! Samuel L. Jackson was such a nice guy. I've loved watching him since I was little, so it was really great to get to talk to him. Also, Andy Richter, Kevin Nealon, and Tim Meadows.
Who do you most want to work with?
I would love to work with Leonardo Di Caprio, Will Smith, and Philip Seymour Hoffman.
Nicest thing a fan has said?
The people who support me are so great! They all say such nice things that make me feel really great. I love it when people compliment me on the way I act, because it is not an easy thing, and there is so much criticism out there.
How do you balance your acting career and your regular life?
When I'm working, it generally takes up most of my time, but I always try to find something to do that makes me happy. Some of the things I do are: I'll play the guitar, go swimming at the beach, exercise, call my family, hang out with friends, listen to music, and read.
Do you think people try to be friends with you because of who you are? How have you dealt with it?
I haven't really had to deal with faux-friends much. I would rather have a few close friends than a lot of acquaintances. I like people who are down to earth, and laid back.
What advice would you give upcoming actors?
As far as acting goes…You can never learn enough. Even the greatest actors still go to acting class. Also, and equally important, be nice to everyone you meet, because the guy who's sweeping the floors today could someday be the biggest director or producer out there.

They Came From Upstairs
Tell us a bit about the project
It is a movie about a group of kids who defend their summer house, and the world, against aliens, while keeping it all a secret from their parents.
What's your character like?
His Name is Jake Pearson, and he is kind of the bad boy, who doesn't listen to authority. He's always getting into trouble. He's watched a lot of action movies, so he kind of thinks of himself as an action hero when defending his planet. He is a very fun person to play.
Is he similar to you in any way?
He's definitely similar to me in the fact that he has to be the best in whatever he chooses to do.
What's been the hardest part of portraying this character?
Even though he is very nice on the inside, he can come off as being a jerk, because he is always trying to be better than the people around him. I'm more laid back then he his.
What has been your favourite scene to film so far?
I have done some fight scenes where I got to do my own fighting. It was a lot of fun!! I've loved action movies since I was a little kid, so this is really great!
Have you had to do anything really adventurous or different?
I got to do some action stuff on the steep roof of a three story house, and I'm doing almost all of my own stunts!
What's New Zealand like?
It is so beautiful. There is a lot of really lush, dense greenery. I haven't gotten to travel much yet, but I'm definitely going to travel around to some cool places. They have both white and black sand beaches that I really want to check out! I also want to see some of the spots where they filmed "The Lord of the Rings." All the people here are really nice and helpful.
Do you miss your home and friends?
I am having a great time here, don't get me wrong, but I really do miss my family, and friends at home!

Zoey 101
What was it like entering a TV show on the fourth season?
I thought coming into the show so late would make me somewhat of an outsider, but everyone was so nice, and the cast was so welcoming, that I felt right at home. I had such a great time with everyone on set.
Had you previously watched Zoey 101?
I had seen a couple of episodes. I definitely have seen more of the show now that I was on it.
Tell us a bit about your character and what we can expect from him.
James Garrett is the new guy on campus. He's very confident in himself, and doesn't have to try to be cool. He's the type of guy who stays calm in crazy situations.
Best moment during filming:
I used to love it when Chris Massey would say his lines, because a lot of the time he would just improvise and the funniest stuff would come out of his mouth!
Most embarrassing moment on set:
My most embarrassing moment was probably when I had a scene where I was supposed to be standing on a bed. I did the rehearsal, and then I got off the bed while they were finishing up lighting. Then when I went to get back on the bed, I jumped, and the bed collapsed! I felt so bad. Thankfully they had people to fix it really quickly, but it was pretty embarrassing.
Ever had a Crush on someone on set?
I never did actually have a crush on anyone on set. Just friends. =)
Favourite person you worked with:
My favourite guest star was Rex Lee from "Entourage". I love that show.
Favourite episode filmed:
I had fun on them all! The most memorable were the first and last episodes.

Favourites
Car I love the Ford GT!! It is such a gorgeous car!
Food I think my two favourite foods are orange chicken, and burritos from Chipotle!
Soda I don't drink much soda, but my favourite has got to be the classic Coke.
Candy I really like pixy stix
Chocolate I'm a dark chocolate guy!
Ice cream Mint and chip all the way!
TV show My favourite TV show is definitely "The Office"!
Website austin-butler.com!
Band I have so many bands that I love! Lately I've been listening to a lot of "The Kings of Leon" Singer Freddy Mercury


LAST...

Dream you had
I had a dream that I was in a cloud doing this interview for Portrait Magazine.

Movie you saw
"Almost Famous"

Song you played
"This is the First Day of My Life" by Bright Eyes

Book you read
"The Intent to Live" by Larry Moss

Person you talked to
My mom

Person you kissed
Wouldn't you like to know…

Thing you wrote
I actually wrote an essay a little while ago about the writers strike.


Dating

What do you look for in a girl?
I think that being able to have good conversations is really important.

Ideal date
A great date would be spending the day hanging out at the beach, and then at night getting dressed up and going to a fancy dinner.

Worst date
A really bad date for me would be if we were to go out, and not get along at all, and then we have to spend the rest of the date together.

Who would be your perfect date [celeb crush]?
Megan Fox wouldn't be a bad interpretation of a celebrity crush…


Random/Personal

Describe yourself in 3 words.
Curious. Happy. Dreamer.

If you were a super hero, who would you be?
I'd have to be spider man. I would love to be able to climb anything!

If you were a cartoon character, who would you be?
I'd be Goofy. All he wants to do is have fun, that's a lot like me!

If you could go anywhere in the world, where would you go?
I'd love to go to France soon.

If you were president for one day, what would you do?
No comment. Lol.

What are your hobbies?
I like to play the guitar and piano, and I love recording, and creating music of all kinds. I also like to exercise. I try to find things to do that are fun, but keep me in shape at the same time, like basketball, biking, hiking, and I have sort of made a home gym in my house, that I love to work out in.

Which is your favourite sport?
I'd have to say, American football is my favourite sport.

Are you home schooled?
I was home schooled from 7th grade until 10th grade, when I took the proficiency exam, and am now officially done with high school. I will be going to college soon though.

Describe your Daily routine during filming
I will get up as close to my pickup time as possible; like today, I was getting picked up at 10am, so I got up at 9:30. haha. Then, I'll go to set, and get my wardrobe on, and makeup and hair taken care of. Then, I'll rehearse, and film until lunch, where I eat and get to relax for a while. After that, it's back to work, until we wrap. At the end of the day, I go home, shower, and usually go straight to sleep. Then I repeat the process until the weekend, when I get to go check out new beaches and other fun stuff.

If you were stuck on a desert island with only three things, what would they be and why?
A special someone (to keep me company), orange chicken (to satisfy my taste buds), and a fresh water pump (because you can't live without water!)

Tell me a secret! [random facts about yourself]
I like to sing really loud when nobody else is home, I'm very sentimental about things, I like to collect guitars, I find self help books very interesting.

They say everyone has a price. What's yours?
I don't think everyone has a price. There are some things I'd just never do.

What do you find more boring than watching paint dry?
Being home alone with nothing to do, and no one to talk to!

What's the strangest thing you've had in your mouth?
When I was little, my friends and I used to make absolutely disgusting concoctions, and then dare each other to drink it. I think I drank one that had like Tabasco sauce, Dr. Pepper, salt and pepper, leftover fish, etc…I don't know what I was thinking. Haha

How would you survive a crocodile attack?
I would not let the croc bite me, and then I would hop on its back, and hold its mouth shut.

What do you think makes the world go round?
Love is what makes the world go round…that, or the gravitational pull of the sun…

If you had to choose, would you rather live without knee joints or elbow joints?
I would rather live with no knee joints, because if didn't have elbows, I wouldn't be able to hug anybody!

Do you have a myspace? If yes, what is it?
My myspace URL is myspace.com/officialaustinbutler

How can fans contact you?
They can go to my web site Austin-butler.com!